| | |
| --- | --- |
|   | Welcome to an encyclopedia dedicated to gathering all kinds of information about the manga series Real Account written by Okushou and illustrated by Shizumu Watanabe. Please be aware that this site contains spoilers about the series. Proceed at your own risk. |
 

Introduction

Real Account is a psychological horror manga written by Okushou with art by Shizumu Watanabe. The manga began publication on January 9, 2014. The story is set in the near future, year 20XX, when a social media application called Real Account (A.K.A. Re-aca) has become incredibly popular. Certain users who spend a lot of time on "Reaca" are sucked into cyberspace, where they are informed by "Marble", Reaca's mascot, that those who manage to survive will be allowed to return to the real world.
Latest Chapter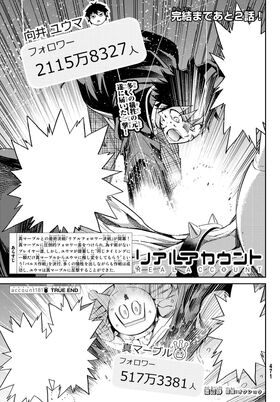 Chapter 191: True End
---
Read the full summary here.
Haru Ichinose
is a 3rd Years Middle School Student and a novel writer. She joined Big Flame Festival game along with
Yuuma Mukai
's group. After the phone was are exchanged, Haru think reading private message from other people's smartphone and she also noticed a lot of people are started to showed interests at reading someone's private message, though she takes note about this as one of her future novel ideas. After
Hayato Kanou
revealed Haru's private message about she being fake advertising a lot of books in online, she acts claim while being shake. Soon Haru revealed
Kirika Sakuragawa
's second shemale photo in public.
September 8, 2019 - Real Account manga confirmed will ends in 3 chapters!
June 7, 2019 - Real Account Volume 23 and Light Novel has been released!
May 9, 2019 - Real Account enters to the Final Arc! An Real Account Light Novel has also been confirmed!
January 9, 2019 - Real Account Volume 22 has been released!
September 7, 2018 - Real Account Volume 21 has been released!
What do you feel after you heard an announcement about Live-Action film?
Community content is available under
CC-BY-SA
unless otherwise noted.