| | |
| --- | --- |
|   | Welcome to an encyclopedia dedicated to gathering all kinds of information about the manga series Real Account written by Okushou and illustrated by Shizumu Watanabe. Please be aware that this site contains spoilers about the series. Proceed at your own risk. |
 

Introduction

Real Account is a psychological horror manga written by Okushou with art by Shizumu Watanabe. The manga began publication on January 9, 2014. The story is set in the near future, year 20XX, when a social media application called Real Account (A.K.A. Re-aca) has become incredibly popular. Certain users who spend a lot of time on "Reaca" are sucked into cyberspace, where they are informed by "Marble", Reaca's mascot, that those who manage to survive will be allowed to return to the real world.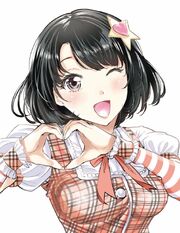 Sayaka Shiiba
is the most popular female Pop Star Idol in Japan. She become
Ataru Kashiwagi
's follower sometimes during the second part of the story, she also love Ataru. Not much know about Sayaka's past, other than it's showed a brief flashback of her that she saw her friend,
Chika
having sex with the producer. Sayaka think this is not good and decided to tells this to the chairman. But due to Chika wants to protect her name and fool the chairman, it's said Sayaka is the one who having sex with the producer. Because of this, Sayaka hate Chika and she haven't be happy even since.
December 9, 2019 - Final volume, Real Account Volume 24 has been released!
November 9, 2019 - Real Account manga has ended!
September 8, 2019 - Real Account manga confirmed will ends in 3 chapters!
June 7, 2019 - Real Account Volume 23 and Light Novel has been released!
May 9, 2019 - Real Account enters to the Final Arc! An Real Account Light Novel has also been confirmed!
What do you feel after you heard an announcement about Live-Action film?
Community content is available under
CC-BY-SA
unless otherwise noted.