| | |
| --- | --- |
|   | Welcome to an encyclopedia dedicated to gathering all kinds of information about the manga series Real Account written by Okushou and illustrated by Shizumu Watanabe. Please be aware that this site contains spoilers about the series. Proceed at your own risk. |
 

Introduction

Real Account is a psychological horror manga written by Okushou with art by Shizumu Watanabe. The manga began publication on January 9, 2014. The story is set in the near future, year 20XX, when a social media application called Real Account (A.K.A. Re-aca) has become incredibly popular. Certain users who spend a lot of time on "Reaca" are sucked into cyberspace, where they are informed by "Marble", Reaca's mascot, that those who manage to survive will be allowed to return to the real world.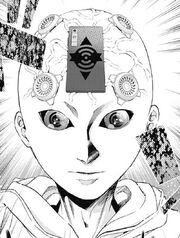 Zui Zakuro
is the God of Computer and producer of a computer company, Noah Wave. In the company, every workers referred Zui as "True Leader" and they claimed he is the best leader in the world. Zui is happy and enjoyed his role as a leader. When the Real Account incident is started, Zui's best friend, Suguru Urita, is transferred to the Real Account area by using CAP Technology. Along with a few of Zui's workers, Zui is still following Suguru. During the Real Live Game, Suguru only have around 80 people or low watching their live show. Despite this, Zui still believed a miracle can be happen. A minutes before the game is over, Suguru's show have 103 people watching their live show, which Zui believed a miracle is happened and he is saved now, but in the end it didn't not.
December 9, 2019 - Final volume, Real Account Volume 24 has been released!
November 9, 2019 - Real Account manga has ended!
September 8, 2019 - Real Account manga confirmed will ends in 3 chapters!
June 7, 2019 - Real Account Volume 23 and Light Novel has been released!
May 9, 2019 - Real Account enters to the Final Arc! An Real Account Light Novel has also been confirmed!
What do you feel after you heard an announcement about Live-Action film?
Community content is available under
CC-BY-SA
unless otherwise noted.